DIVE SAFARI GUIDE (4: check dive)
Author: Przemyslaw Jocz
Location: 27,40785; 33,85363
The first dive of each safari is dedicated to adjusting weighting and testing equipment. The Shaab El Erg reef is a great place for a test dive before embarking on the northern safari route, so many groups start their journey here.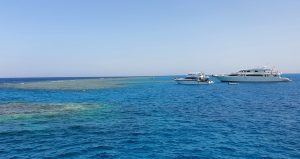 We fill the weight pockets of our Tecline Wings with the appropriate amount of lead and jump from the deck into the water. The natural conditions of Shaab El Erg are very favorable for a test dive. Shallow water, sandy sea bottom surrounded by two major reef formations — one large and L-shaped and the other one small and round. The reef protects us against the currents so it's very pleasant around here. If you had a longer break in diving, Shaab El Erg will be the perfect place for a warm-up. Similarly, those who are just starting their diving adventure will find the almost swimming pool-like conditions very comfortable.
The area of the lagoon is not uniform, every now and then we encounter coral colonies of various sizes. The short reef walls provide great opportunities to observe the richness of nature and wildlife. It's important to have a mask with a wide viewing angle (Tecline). The shallow waters of this area allow sunlight to reach the sea bottom. It is well worth taking a sports camera with you. Shaab El Erg is also known as Dolphin House — there is a great chance of returning from the dive with pictures of those beautiful marine mammals. It is also a great place for night dives. The sights we will see in the light of our flashlights will stay imprinted in our memories for years to come.
Swimming using frog kicks just above the sandy bottom, we have a chance to observe microscopic fish hiding in small pits carved in sand. New Tecline Light Jet Fins help to make precise manoeuvres underwater. Among the small formations of corals, resembling rose bushes planted in a large garden, we see numerous bannerfish (Heniochus diphreutes) and pretty butterflyfish (Chaetodontidae). Rays are commonly found in this area. With a bit of luck, we find an astonishingly beautiful and large specimen.
At the channel's entrance, just below the surface, we encounter two dolphins. One large handsome individual followed by a younger one. They observe us for a bit, visibly curious and swim away after a while. Then the entire herd approaches us. We don't chase them and don't try to pet them so they stay with us until the end of the dive. We take our time to climb the ladder back to the deck. This place is so beautiful, we don't want to get out of the water.
Equipment used by the author for this dive:
– Tecline Peanut 21 wing,
– Tecline R2 TEC1 Regulators Set,
– Tecline Proterm Wetsuit 5mm Overall,
– Tecline Neoprene Gloves,
– Tecline Neoprene Boots, 
– Tecline Tiara Mask,
– Tecline Light Jet Fins.
Conditions (October): no waves, perfect visibility, 28oC, 73 minutes, 12.1 meters. Required certificate: OWD.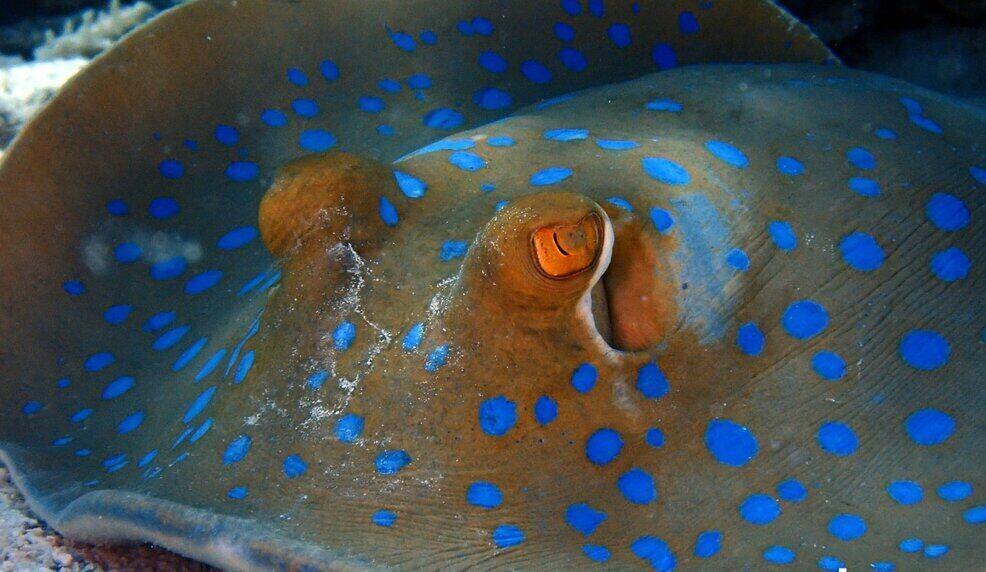 Author: Przemysław Jocz
First completed diving course (2008) in the National Defense League (3rd class diver). He has been diving intensively since 2015. Current diving certificates: SSI AOWD (Deep, Dry Suit, Nitrox, Science), SSI Gas Blender Nitrox/Trimix, cylinders filling qualifications: Office of Technical Inspection. Volunteer Firefighter. Co-organizer and participant of ecological actions, volunteer of W.O.Ś.P. Author of one book, co-author of two. His wife Anna is a technical diver and diving partner.
Translated by Oriana Jocz