DIVE SAFARI GUIDE (3: Social Norms)
Tips from our travelling ambassador: Przemyslaw Jocz
When going on a journey, we need to consider that our daily habits may be very different from what is considered the norm in other countries. Oftentimes, even in different regions of the same exotic country, the acceptable behaviours may vary. Do not get upset if you are asked to take your shoes off at the airport. Knowing the customs on dive boats is essential for successful survival on the confined space of the shared deck for a week or longer.

Boarding
On the way back from a diving trip to the Mexican Cenotes, we went through Canada with another change in London Heathrow. The British border guard noted that I was using a weight belt, instead of a regular one. The officer called his colleagues, pointing at me like I'm some sort of a sensation. "I'd never have allowed you to enter the plane with such a huge piece of metal. That can happen only in Canada," he said, amused and slightly shocked. Nevertheless, I still fly wearing this belt (though I take it off at security gates). In 2019, during a domestic flight on board of a Garuda Indonesia (really great airlines) aircraft, we were served a meal with metal forks and knives. In general, however, airlines are very safety compliant. So let's put my above stories among other humorous tales.
Preparing for airport control pays off. Before entering the plane, we will have to go through a security gate that detects metal objects. Let's put the keys and coins in our backpack. Proper planning can save us a lot of time after the inspection. Nail files, the smallest of the cuticle scissors, even backup Tecline US-13 flashlights (they might look like batons to a conservative airport clerk) — all such items should be stored in the checked in luggage. Listen to the instructions, follow them. The airport staff has to follow specific regulations, no matter how strange they may seem to us.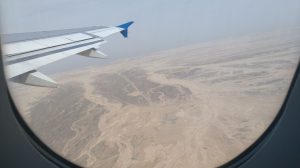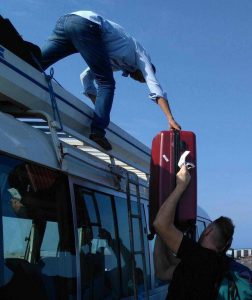 On the deck
The deck on diving boats is divided in two parts: wet and dry. For safety reasons we do not enter the dry part in wetsuits. Water dripping from our equipment would make the lacquered flooring very slippery which could easily cause an accident. The diving deck, however, does not have a varnished floor but one adapted to the "wet" conditions. It is customary to move barefoot on boats in Egypt. It is different in near-equatorial areas, where sometimes you need to wear flip-flops because the deck surface gets very hot from the sun.
Before the dive, take a towel and a hat to the diving deck. Sometimes, when the wind is strong, you can get very cold unless you get yourself dry quickly (even though we are in the tropics), the winter cap will protect our ears and sinuses. When going to the recreational area, in between dives, we need to remember to take our sun hat and dark glasses. I always use that time to read a book and to fill in the log book.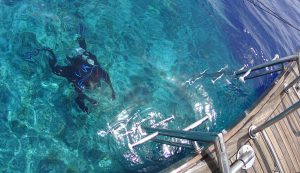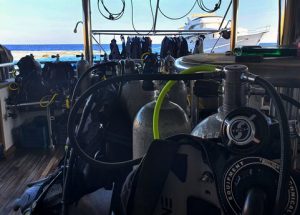 The cabins
The cabins on boats are extremely small. The crew keeps them tidy by cleaning every day. Do not expect apartments of sizes from holiday resorts. The cabins are air-conditioned, though the cooling is sometimes turned off when the scuba compressors are in use. The bathrooms are a bit larger than in caravans. We should keep cosmetics in our bags to prevent them from flying around when tides get stronger.
To protect the environment, do not waste fresh water and familiarize yourself with the local sanitary practices. In some Arab and tropical countries, especially on a boat, after using the toilet you should use the small hose with a little valve that provides water like a miniature shower. Toilet paper is then only used for drying and ends up in the bin (sewer pipes have a small diameter).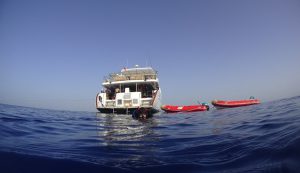 Briefings before the dive
Being late for pre-dive briefings is extremely imprudent. If the briefing is already underway, we better not disturb it and skip the dive. Carefully listening to the guide's lecture allows you to get acquainted with the conditions and underwater attractions. Memorize the planned submersion time as well as the breathing gas limits. 
Food and drinks
Meals and briefings are signalled by the sound of the bell. It is very easy to distinguish between the two calls. Just touch your hair. If it's wet — we are being invited for a meal, if your locks are dry — time for a dive. During the safari, we are provided non-alcoholic drinks and food 24/7, so there is no need to stock up beforehand. Do not hesitate to try the local cuisine.
If we are planning on having a modest alcoholic drink after the last dive of the day, we must not forget to make a purchase before departing the duty-free zone at the airport — and to check the limits of what can we bring to our destination. In Arabic countries, oftentimes alcohol is unavailable outside of hotels and shops for tourists. In Egypt, for example, you will only find it in places dedicated to travelers, regular grocery stores will not have any in stock. Very much the same situation in Jordan and the Islamic part of Indonesia. In Bali, when looking (at our own risk) for the local moonshine supplier, we should direct our steps towards a group of young people on scooters in the evening. We won't find an alcohol shop in the Maldives at all.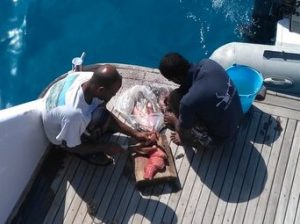 Internal life of the dive boat
The boat lives according to its own internal rhythm and, in fact, never sleeps. Crackling, soft humming, engine and compressor sounds, while not bothersome, are definitely noticeable. Covering larger distances is often (e.g. in Egypt) planned for the night to not waste time during the day. On the other hand, in eastern Indonesia, for example in the Raja Ampat archipelago, sailing is done almost exclusively during the day.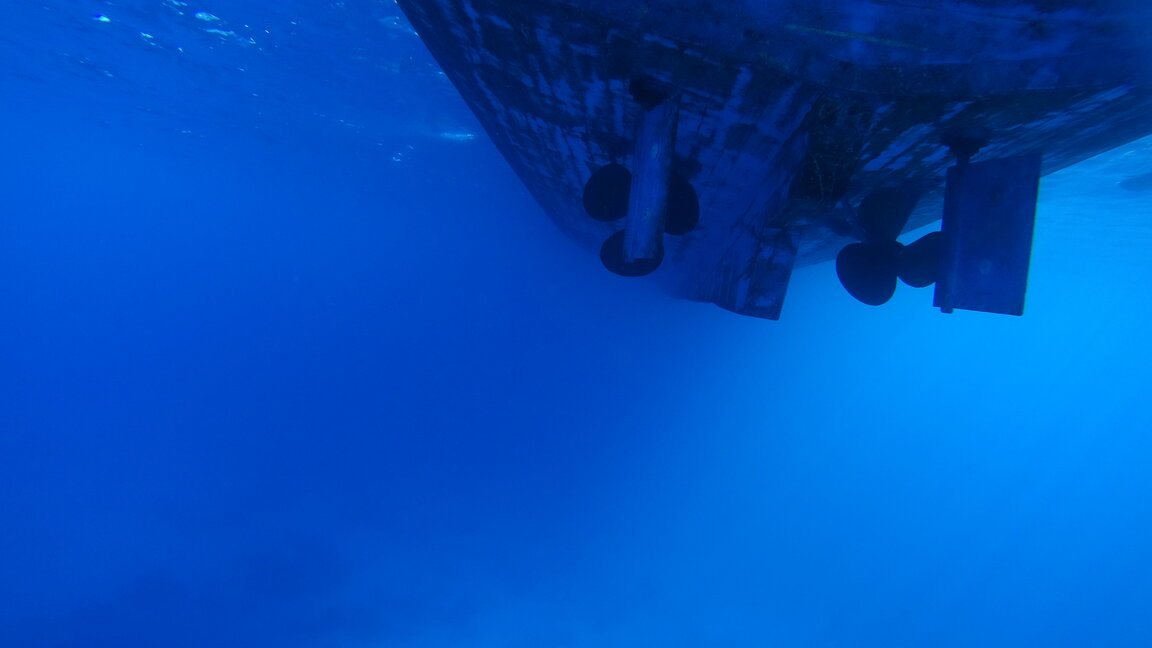 Local culture
Local conditions can vary considerably even within one country. A great example of this is Indonesia, whose Islamic part (very different from what we know from e.g. Egypt) is fundamentally dissimilar from the Hindu part (Bali). Though in Egypt we won't see local women driving cars, in Jordan such a view is the norm. In Mexico, I felt at home.
There are many sources on the customs of our destinations (guides, Internet). Often, the behaviour we treat as the norm can be considered offensive in other cultures. This applies, among other things, to clothing in countries more conservative than the so-called West. This is especially important in islamic countries. While it is not appropriate to enter a church at home in a skimpy sports outfit, we will be denied entry to a Hindu temple without a sarong. Fortunately, the temple staff is prepared for tourists and will rent out the necessary outfits, sometimes free of charge.
I always buy a phrasebook when going to a new country, mastering even a few polite phrases often opens the hearts of our hosts. The absolute most important thing during each diving trip, which should not be forgotten, is a sense of humor, positive thinking and a keen eye.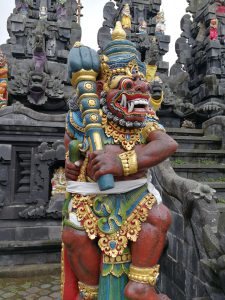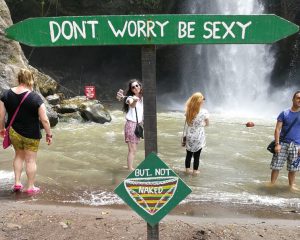 Author: Przemysław Jocz
First completed diving course (2008) in the National Defense League (3rd class diver). He has been diving intensively since 2015. Current diving certificates: SSI AOWD (Deep, Dry Suit, Nitrox, Science), SSI Gas Blender Nitrox/Trimix, cylinders filling qualifications: Office of Technical Inspection. Volunteer Firefighter. Co-organizer and participant of ecological actions, volunteer of W.O.Ś.P. Author of one book, co-author of two.  His wife Anna is a technical diver and diving partner.
Translator: Oriana Jocz