GHOST FISHING
CONSERVATION OF THE MARINE ENVIRONMENT IS ONE OF THE BEST WAYS TO USE DIVING GEAR. THIS IS THE MAIN REASON FOR OUR LONG-LASTING COLLABORATION - TECLINE & GHOST FISHING…
"We believe in collaboration, we cannot solve this problem on our own."
 Imagine a fishing net that gets snagged on a reef or a wreck and gets detached from the fishing vessel. Nets, long lines, fish traps or any man made contraptions designed to catch fish or marine organisms are considered capable of ghost fishing when unattended, and without anyone profiting from the catches, they are affecting already depleted commercial fish stocks. Caught fish die and in turn attract scavengers which will get caught in that same net, thus creating a vicious circle.

Source: http://www.ghostfishing.org/  
Lost fishing gear, or so called 'ghost gear' are among the greatest killers in our oceans, and not only because of their numbers. Literally hundreds of kilometres of nets and lines get lost every year and due to the nature of the materials used to produce these types of gear, they can and will keep fishing for multiple decades, possibly even for several centuries.
…is a non-profit organization driven by technical divers initiates and promotes lost fishing gear removal initiatives worldwide and shows the problem to a wide audience :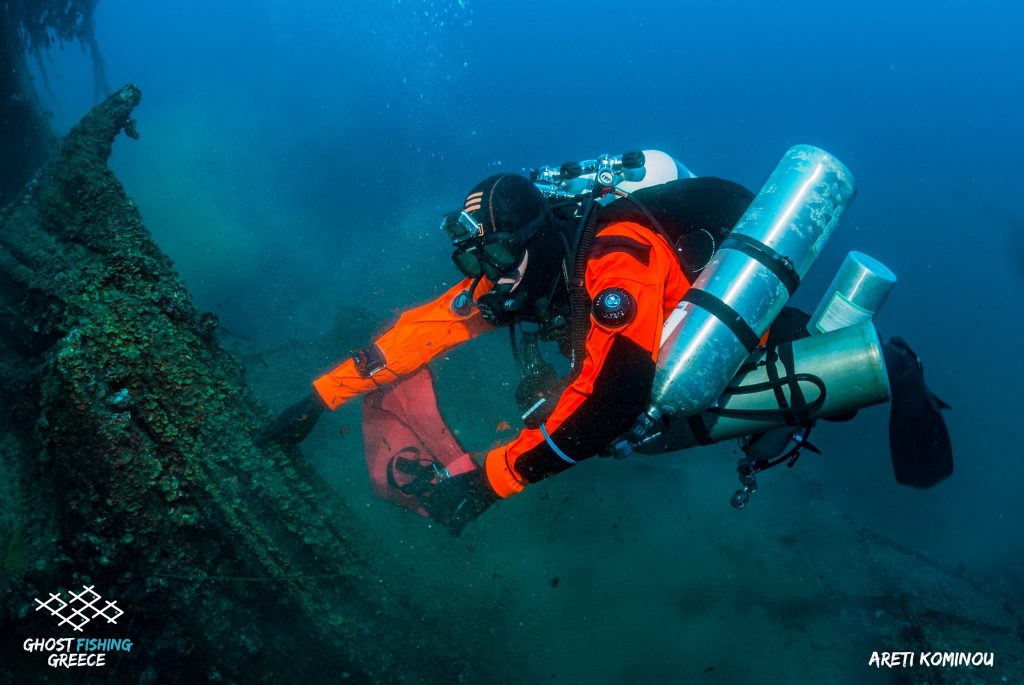 The members of Ghost Fishingare experienced and well-trained divers, who remove marine debris and make the problem called 'ghost fishing' visible to a worldwide audience. The organisation is open for worldwide collaboration with other diving teams and like to start or participate in existing projects all over the world.
Ghost Fishing Mission Statement:
Physically removing nets, fishing gear and other marine debris
Investigating and documenting local situations (photo/video)
Ensuring diving safety
Recycling marine debris
Sharing knowledge and best practices
Education & presentation
#TecLineTeam also gets involved:
Ghost Fishing Team in Action (Mission Santorini 2018) :
As TecLine we are proud to support such a noble initiative in long-lasting collaboration:
To make our projects successful, we set high standards for technical diving equipment. Tecline by ScubaTech are products dedicated for professional divers and supports us here for years. We test their equipment to the maximum limits and we are convinced that there is no competition here. Why compromise if you can work with the best equipment?
WOULD YOU LIKE TO CONTRIBUTE TO THE INITIATIVE ?
GHOST FISHING ORGANIZES MULTIPLE PROJECTS WITH NUMEROUS PARTNERS:
TO SUPPORT ONE OF GHOST FISHING PROJECTS CHECK :
 http://www.ghostfishing.org/ 
REMEMBER-  We cannot solve this problem on our own…
Article by:
BarTek Trzcinski
Did you like this article?
Join our newsletter
to be informed about upcoming publications: