DIVE SAFARI GUIDE (1: EQUIPMENT)
Tips from our travelling ambassador: Przemyslaw Jocz
Packing suitcases for a dive safari might seem like a daunting task, especially if we are trying to stay within the limits set by airlines.
What to take? What cannot be forgotten? What to leave at home?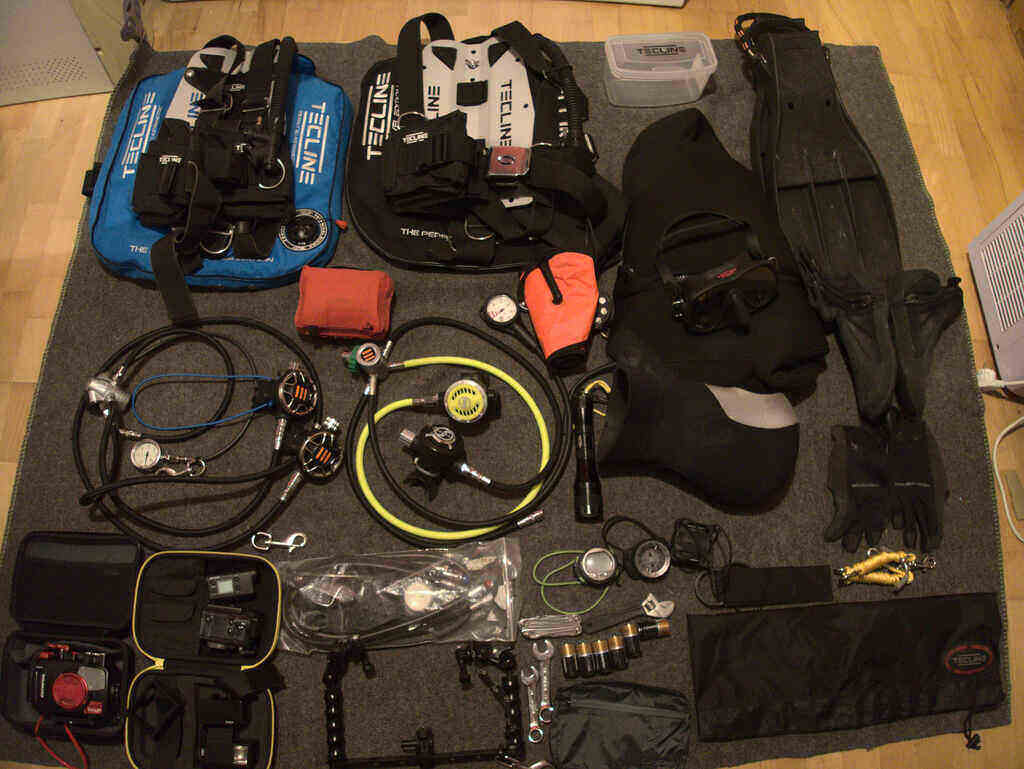 It might be worth keeping a checklist to not forget any pieces of equipment.
If we are going on a safari, forgetting to take one, seemingly trivial, thing may prevent us from diving. After all, it is impossible to go shopping in the high seas.
A small but necessary item can turn out to be invaluable. If the boat crew has the missing piece of equipment, we will be able to rent it. At best, we will be exposed to unforeseen expenses.
Let's take a look at our documents first. Many countries require a passport valid for at least six months upon entry (e.g. Egypt). No need to take all of our diving certificates — just the ones documenting permits regarding maximum depths and for example, nitrox. We can also confirm our qualifications with a mobile app (make sure the certificates are available offline). Naturally, we will also pack a logbook.
Some countries require information about vaccinations (see the website of the Ministry of Foreign Affairs, for example it concerns areas affected by Malaria). Naturally, this does not apply to Egypt.
If we want to drive vehicles, we might need to acquire an international driving license. That being said, you should carefully consider pros and cons before getting behind the wheel in exotic countries. For example, in Bali, covering 60 km of a narrow, winding road, filled with the ever-present mopeds and overloaded trucks can take two or more hours. It is a common occurrence in Asia. If, on a scooter going 60 km per hour, there are two children and wife with a huge tray of artfully arranged food on her head next to the driver, it means we have arrived just in time for the local holidays. Let's not allow this idyllic picture to fool us. Where even the local children will do just fine on the road, an European, not used to such conditions, may become a threat to themselves and the others. On the other hand, the roads of Mexico are wide, fuel and car rental are affordable and the streets are safe.
In the day and age of COVID-19, typically you need to get tested before going abroad.
When going on a trip, you need to remember to take masks — or anything that will serve the same purpose. Buff scarfs available at sports shops are perfect for this. Once you arrive on the safari boat, you are in contact with the same (small) group of people — seems like a good option for a vacation for people wary of getting infected.
When packing our mask let's check the condition of the fasteners and the strap (Tecline offers masks with indestructible fasteners). It is worth considering a backup. Losing a mask on the way back to the ship happens quite a lot. If we absolutely insist on not taking a second mask (my wife believes that a second mask is necessary and I completely agree with her), let's at least take a backup strap.
When packing the fins, let's not forget to take a spare fin strap with buckles (unless, of course, we are taking fins equipped with springs, for instance the excellent recreational-technical Tecline LightJet). The mundane breakdown of the rubber strap when everyone else is ready to enter the water, can eliminate us from diving. The problem is easily solved by having a spare strap.
While putting neoprene shoes into our suitcase, it is worth taking a moment to think about taking socks. If we tighten the strap too much and the fin grazes our foot, socks will turn out to be salvation. They will be especially crucial if we opt for full foot fins.
The suit, hood and gloves are considered mandatory equipment. Even if we are extremely resistant to low temperatures and could be diving in a shorty wetsuit, it is much better to take a full-size one. It will protect you against coral scrapes, cuts inside wrecks as well as isolate you from getting stung by select marine creatures.  During a safari, you can dive up to four times per day, so a hood will definitely come in handy. Winter cap will be handy even in tropical countries to protect our ears from the wind on the sea.
Another issue to consider is the use of a drysuit on a long-distance trip. If we decide to go with such a solution, it is a good idea to take spare cuffs (if you can replace them yourself). Unfortunately, any major drysuit failure will stop us from diving. On the other hand, torn wetsuit can always be "repaired" with duct tape and you can wear a thermal undersuit.
I always take my well-configured and regularly serviced regulators in hand luggage. With videos of airport staff handling checked luggage with anything but care in mind, I can't imagine any other way of transporting this delicate piece of equipment.
I also put my main mask and diving computer in there. My BCD set — designed for travel and therefore rather lightweight — goes to the checked luggage.
Tecline aluminum backplate, webbing harness and the asymmetrical Peanut Travel Edition wing weighs collectively around 3 kg. The Donut set with adjustable harness is not much heavier. Such wing sets will prove to be useful both at home and on the longest of journeys. The webbing harness, apart from its minimal weight, has two important advantages.
Less fabric means less weight is required and the lack of plastic fasteners means no broken buckle when you least expect it. If we prefer diving in a jacket, let's choose a lightweight one without unnecessary features. The simpler, the better.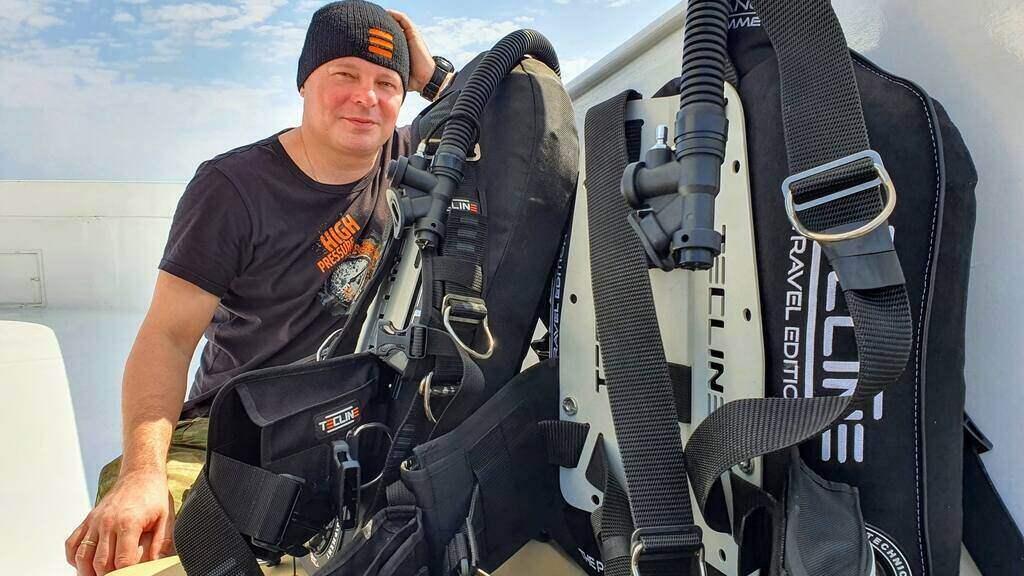 LIGHT, COMPUTER, BATTERIES
The matter of bringing an appropriate amount of cables and chargers is, perhaps surprisingly enough, very important. It is worth considering purchasing a good charger with multiple usb ports — in case of ever having to charge multiple devices (for instance, photographic equipment, diving computer and flashlight) at once.
Every cabin has power sockets but if our roommate also has high energy requirements, we might find out there are not enough of those.
It is worth checking what plug types, voltage and frequency are used at our destination (Egyptian power sockets are compatible with European plugs; on the other hand Mexico is using the same standard as the USA). 
When taking a dive light with a rechargeable battery, you need to respect the limitations imposed by air carriers. Rechargeable batteries (under 100 Wh, e.g. Teclight) are only allowed in hand luggage. Larger batteries require prior approval from the airline. Empty flashlights powered by regular batteries (Tecline US-16) are best transported in the checked luggage, while the alkaline cells themselves I would put in a carry-on bag. I have bad memories with batteries bought on-site. For most trips, I pack a spare flashlight and an extra dive computer for two people.
You cannot carry a regular knife when diving in proximity to the coral reefs but the Eezycut Trilobite available in the Tecline catalog can and must always be taken underwater. An SMB (e.g. Tecline 22/180) should be treated as mandatory equipment during sea dives. It is best transported in a cargo pocket fastened to the upper leg harness or in the pockets of shorts worn over the suit. Personally, I always carry a small spare flashlight on me, even during morning dives.
Wherever I go, I always take zip ties with me  — a diving vacation is no exception.
When going on a safari, I also take a piece of bungee rubber, a spare mouthpiece for the regulator, a set of hoses: for the regulator, inflator and pressure gauge.
I make sure not to forget my O-ring box. In the open sea, you might find out that the one tiny black circle you are missing cannot be found anywhere on the boat (it is worth checking if we have the small O-rings for the pressure gauge, somehow they always end up missing).
I also put a lightweight multi-tool into the checked luggage. There is no need to take a lot of tools, the most basic ones will do just fine. All kinds of tools belong in the checked luggage. Any sharp, elongated objects in hand luggage will no doubt be lost.
Author: 
Przemysław Jocz
First completed diving course (2008) in the National Defense League (3rd class diver). He has been diving intensively since 2015. Current diving certificates: SSI AOWD (Deep, Dry Suit, Nitrox, Science), SSI Gas Blender Nitrox/Trimix, cylinders filling qualifications: Office of Technical Inspection. Volunteer Firefighter. Co-organizer and participant of ecological actions, volunteer of W.O.Ś.P. Author of one book, co-author of two.  His wife Anna is a technical diver and diving partner.