DIVING IN RAJA AMPAT #4
Report about a trip to Indonesia and Tecline equipment tests by Przemyslaw Jocz
The bay on the northwest edge of the island of Waigeo posesses an extraordinarily varied coastline. The land encompasses the water with two "arms" – northern and southern – leaving a small connection with the sea to the west.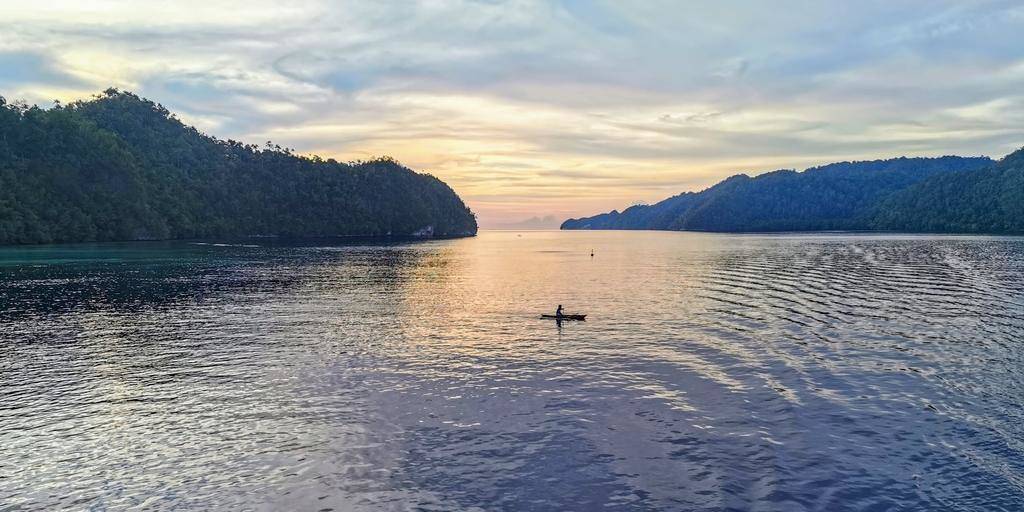 The two landmasses enclosing the bay are covered with multiple protrusions which split into peninsulas only to split again or swell into large protuberances of the most fanciful shapes.
The water surface here is far from smooth and flat – it is covered with islands and islets, a labyrinth of green and azure, from which only Ariadne's thread or a really good GPS receiver can lead you out.
This place is an incredible diving spot – thanks to the wealth of the underwater life here. Though the idyllic peace of the surface world often stands in stark contrast to what could be happening underwater.
Just one look is enough to notice an enormous number of gigantic gorgoniids – clearly inclined in the direction of currents. Their shape is reminiscent of lonely trees – at high altitudes in the mountains or near coastal dunes – formed by raging winds. There is practically nothing you can say or write about this place that would do it justice – its richness, colors and shapes bring only one word to mind: "paradise".
There are spots so peaceful, you could almost meditate in them. There are also currents so strong, that the term "hurricane" fits perfectly. As you rush along the current, near steep underwater rocks, you could feel like a passenger of a Formula One car, sitting not in the cockpit but on the rear wings, during a world championship race. It is worth holding onto the mouthpiece of your regulator harder than usual.
At times, the currents are so strong that in a blink of an eye they pull divers 15 meters down. Inflating your wing noticeably weakens the pull but in order to resurface – you have to literally climb a wall at times. A pair of durable and well-made gloves is very useful to have here – those made by Tecline, although not thick, have proved to be extremely solid.  In such strong currents, the excellent buoyancy ensured by the  Tecline Peanut 21 Wing – gives a full sense of comfort and safety.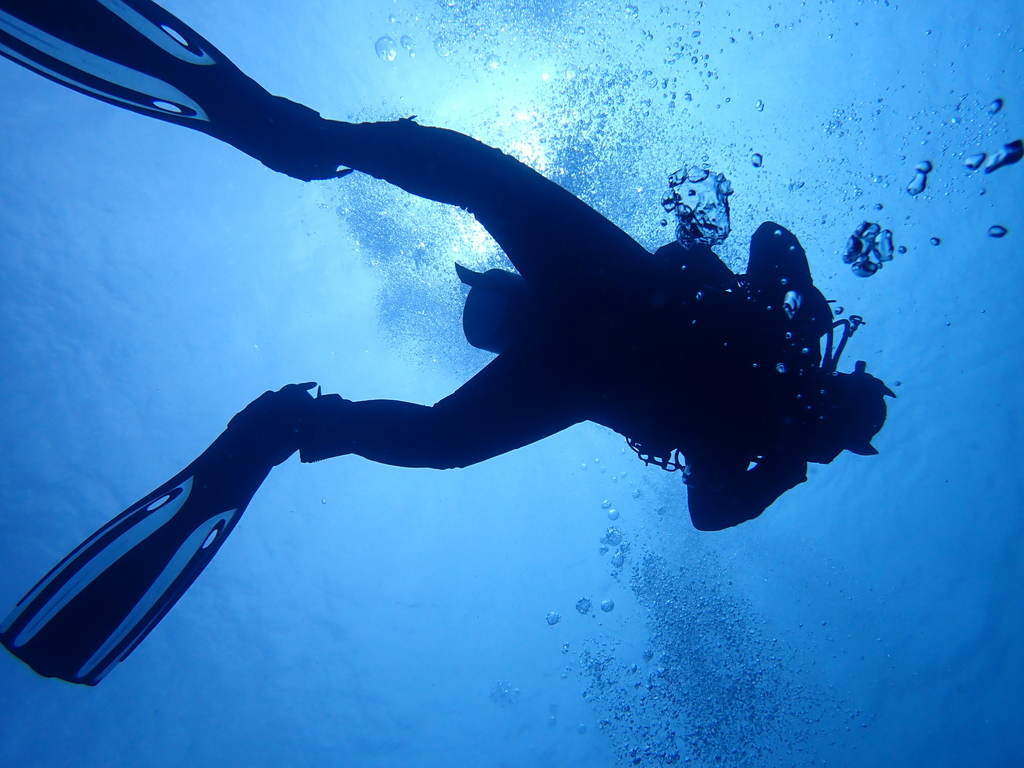 It is unthinkable that, in spite of the strong currents, anyone would not take a buoy with them (one per pair is a bad idea). Surface Marker Buoys (SMBs) made by Tecline proved to be excellent – helped the motorboat crew find the scattered divers, ensured a safe ascend and – most importantly – was not a disturbance underwater. Due to numerous and strong current, it is worth taking a flashlight – even during the day – for safety reasons. Especially considering that on the equator, between the afternoon and the dusk there is but a fleeting moment. The Tecline LED US-16  dive light – durable, small, handy – in case of being carried away by the current, coupled with a buoy will significantly increase safety.
WHOFO RIGHT, LEFT AND NIGHT
While sailing from Sorong towards the Kawe Island – right before entering the bay of pearls, you definitely should make a stop at the westernmost part of Waigeo.
On the southern side of the peninsula, around half of its length you can find the small island of Whofo – a place definitely worth diving in. Three dives – enough to swim around the islet from both sides, and get to know the charm of this place after dark.
During the first dive (Whofo left) we find ourselves in a gorgeous garden situated on a gentle slope. There is a point where the incline becomes almost vertical – but then returns to its previous shape and we go back to the flat coral garden. There is a large population of clownfish around here, protecting their – numerous in this place – anemones. A big attraction – very characteristic for Pacific Ocean – are fish with eyespots on their fins (Twin-spot goby, Signigobius biocellatus).
While swimming around the reef in the other direction (Whofo right) you can admire the giant vertical wall emerging from the depths inaccessible to sight. Where the wall ends with a large fault – you can find a charming plateau. During the safety stop at five meters it is worth visiting a narrow and relatively short cave. Its celling is just below the surface. You have to enter the cave one at a time and it is better to not venture further than half its length – as the wave gains so much strength there, it could throw you against a rock. In order to swim out from there, you need to swim in harmony with the rhythm of the waves and put additional strength into your fin movements.
At night, it is worth to spend your time near the flat and shallow reef – completely devoid of currents – with a sandy seabed and small coral formations. The place is extremely attractive and well liked by the squids swimming around in groups.
Maximum depth: 30.5 meters; time: 54 minutes; temperature: 27 degrees Celsius.
Author: 
Przemysław Jocz
First completed diving course (2008) in the National Defense League (3rd class diver). He has been diving intensively since 2015. Current diving certificates: SSI AOWD (Deep, Dry Suit, Nitrox, Science), SSI Gas Blender Nitrox/Trimix, cylinders filling qualifications: Office of Technical Inspection. Volunteer Firefighter. Co-organizer and participant of ecological actions, volunteer of W.O.Ś.P. Author of one book, co-author of two.  His wife Anna is a technical diver and diving partner.